Abdel Aziz Essayed Crossword
The Pervasive games platform demonstrates a strong mix of real life and Internet experience in a playful way and shows advances in 3D or virtual world environments in a way that becomes immersive and ''real''. The platform focuses on multiplayer mobile gaming that leverages the future Internet technology in order to enable large groups of users to participate in innovative mobile gameplay experiences. A central theme of this new social gaming platform is moving beyond the traditional paradigm in which a user is fixed in front of a console or display. In this way, the game becomes an augmented version of the real world that delivers a more compelling experience than traditional console games or the simplistic social games that dominate today's market. We organise our scenarios into a 3-tiered structure, which provides a scalable product framework of layered building blocks necessary to implement compelling authentic gaming experiences aligned to business uses:
 Consumer Products: augmented-reality games based on toys, fashion, and other connected, digitally enhanced physical products.
 Location-Based Installations: games developed in an installation such as a historic monument in which connected, cooperative game experiences are used to make the visit more compelling.
 City-wide Games: games in which larger numbers of players interact in unstructured environments.
---
Enablers for Pervasive Games
A set of Enablers has been specifically designed to help you create cutting-edge games using FIWARE: Leaderboard, Reality Mixer – Camera Artifact Rendering, Game Synchronization, ARTool, and more… They are available on the FIWARE Media & Content lab.
Go to the FIWARE Media & Content Lab
---
Assets
To help you getting started, the FIcontent Pervasive Games platform offers a set of graphic assets.
Download the package
---
GitHub
The Source Code of Pervasive Games platform is available on GitHub!
Go to GitHub
---
Example of application
The following application has been created with the Reflexion Mapping and the Leaderboard enablers.
Every episode of Downton Abbey is laid out much like the elegant dinners that the Crawleys share with their guests. Many different courses and layering of flavours that is always a treat for the eyes. While food plays a role in each episode, it is mostly a supporting player. There is one dessert in Season 1, Episode 5 which takes centre stage: the salty raspberry meringue pudding.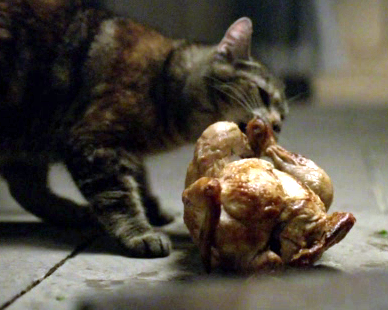 Dirty little secrets of the Downton Kitchen (photo ITV)
The back story is that Mrs. Patmore, Downton's head cook, is suffering from failing eyesight, most likely cataracts. It hasn't gone unnoticed by Daisy, the lowly cook's assistant, and it is apparent the condition has worsened. Mrs. Patmore refuses The Countess of Grantham's request to serve an Apple Charlotte (try this easy recipe), a dessert favored by dinner guest, Sir Anthony Strallan; Daisy guesses that Mrs. Patmore couldn't read the receipt (recipe) and receives a tongue lashing for politely offering to read it to her. Cora graciously allows the raspberry meringue to remain on the menu since the ingredients had already been ordered. The plot thickens when there is a mishap with a chicken ending up on the floor, but when Mrs. Patmore reaches for the wrong bowl (salt instead of sugar) to finish the dessert, the jig was up. She proudly sprinkled heaping spoonfuls of the salt on the dish just before being sent upstairs, proclaiming "I don't like to put in (sugar) on earlier, it spoils the effect." Sadly, the salty pudding did not produce the result she had intended.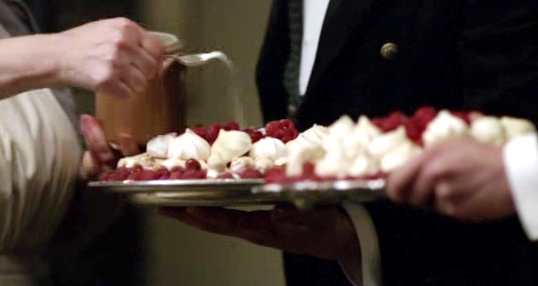 Wait! Are you sure that is sugar? (photo: ITV)
I was curious about what was in the pudding that Mrs. Patmore knew so well, since it did look elegant. The pudding is a simple custard and since you are also making meringues you have a use for the egg whites which was a pretty frugal idea for the time. My version uses milk in place of cream to keep the fat content down. Caster sugar is a very fine sugar which you should be able to find as many cooks use it for canning their preserves. You can also put regular sugar in your food processor. I use sucralose, a sugar substitute which is also super fine, and save some calories. You can make the meringues in advance which can be served on their own as a light tea treat, and is the key ingredient of Eton Mess.
Give it a try. Yes, you too can be a Downton Abbey Cook!
Raspberry Meringue Pudding
Makes 1 large pudding or 4 individual servings
Ingredients
16 fluid ounces of milk
1 vanilla pod, split or 2 tsp. vanilla extract
3 1/2 ounces caster sugar (super fine sugar or sugar substitute)
4 egg yolks (freeze the whites if you aren't making your own meringues)
5 ounces fresh breadcrumbs
zests from 2 lemons
7 ounces raspberry jam
1 tbsp. icing sugar
1 pint fresh raspberries
2 tbsp. caster sugar for garnish (not salt!)
meringue cookies, or make your own
Directions
Preheat the oven to 300F.
For the pudding base, pour the milk into a pan and add the split vanilla pod. Bring slowly to the boil over a medium heat.
Separate the eggs, and reserve the whites to make the meringues.
Place the sugar into a large bowl with the egg yolks and whisk until the mixture is light and creamy.
Slowly pour the egg mixture into the hot milk, whisking all the time, then add the breadcrumbs and lemon zest.
Half-fill a roasting tin with boiling water to make a bain-marie (water bath). Pour the pudding mixture into 4 x 4 oz individual ramekins, or one large oven-proof baking dish and place them into the bain-marie. Mrs. Patmore made one large one.
Place the bain-marie in the centre of the oven and bake for 10-15 minutes for the individual molds, 30 – 40 minutes for the larger version, or until the pudding or puddings are almost set, but still slightly wobbly in the centre.
Place the jam into a small pan over a low heat and gently melt. Spread the jam over the top of the pudding when it has finished baking and cooled.
To serve, gently remove the pudding from the molds, and transfer to a serving platter(s), garnish with raspberries and meringues, and sprinkle with some extra caster sugar…not salt.
Make your Own Meringue Cookies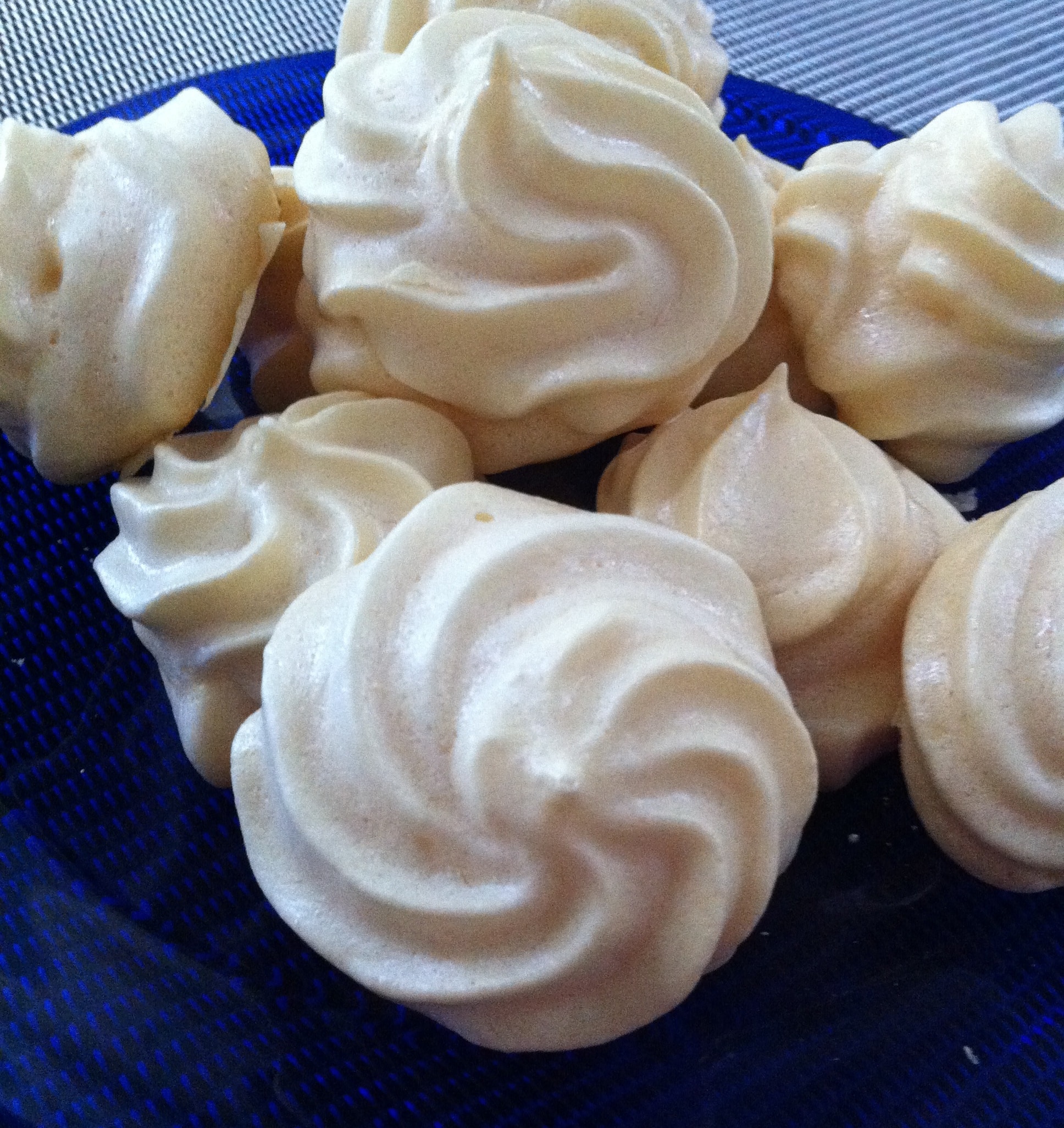 meringue can be piped into any size of cookie or into nests to hold other goodies
Ingredients
4 large egg whites at room temperature.
1/4 tsp. cream of tartar (or a 1/2 tsp. lemon juice)
1 cup superfine or caster sugar
1/2 tsp. pure vanilla extract
Method
Preheat oven to 300 F (105 degrees C) and place the rack in the center of your oven. Line a baking sheet with parchment paper.
Beat the egg whites on medium speed with an electric whisk until foamy.
Add the cream of tartar and continue to beat the whites until they hold soft peaks.
Add the sugar, a little at a time, and continue to beat until the meringue holds very stiff peaks.
Beat in the vanilla extract.
Test to make sure the meringue is ready by rubbing a little between your thumb and finger. When it is no longer gritty you are ready to go.
Place at least 10 equal sized mounds of meringue onto the prepared baking sheet. You can use a tablespoon and make a swirl, or put into a piping bag with a star for a more decorative cookie.
Reduce the heat to 275 F and bake the meringues for 60 minutes. You may wish to rotate the pan halfway through to ensure even heating.
The meringues are done when they are pale in color and fairly crisp.
Turn off the oven, open the door a crack, and leave the meringues in the oven for at least another 60 minutes to dry out.
Meringue Cookies can be stored in an airtight container for several days.